Morning everyone.
I hope you are keeping warm on this chilly Saturday.
This week saw snow and ice causing havoc on the roads, but it didn't stop our Key Stage 2 Christmas Selection Box performances. Thank you to all those parents and grandparents who attended the shows. Thank you to the staff for putting it together.
On Wednesday the children and staff watched a performance by the band 'No One Knows'. They are made up of five of our Year 6 pupils: Solomon (drums), Evie (guitar), Morgan (bass guitar), Nina (keyboards) and Zennor (vocals). They were brilliant! Thank you to Dave at AllStars for allowing them to perform.
Following her recent Hockey success, Elyse in Year 5 demonstrated she can also dance. She and her dance crew took part in the UDO street dance championships last weekend. They came 2nd in the Under 10s  group dance.  This means that they have qualified for the street dance world championships in Blackpool. Well done Elyse.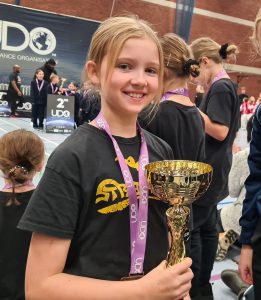 Thank you to the PTFA for arranging the Whole School Treat. The children thoroughly enjoyed the Christmas film and donuts. I think the staff did too!
Congratulations to all those lucky Christmas Hamper winners. Thank you again to the PTFA for organising the fundraiser.
Miss Phillips wanted me to let you know that three large bags of left over party food from across the school were taken to Shoreham Foodbank to help families and individuals.
A big thank you to Roisin Murphy (Polly and Alice's nan) who donated some fantastic music equipment to the school – mixing desk, speakers, lights, backing tracks and microphones. I might even let the children use it!!!
Several of our pupils have music lessons through SAM Music. Here is a link to a fun festive number that they have put together. Apparently 250+ students took part in this year's Christmas performance collaboration!: https://www.youtube.com/watch?v=6UGdiMwVL_8
On behalf of all of us at Shoreham Beach Primary…..Have a lovely Christmas.
Mr Vallier