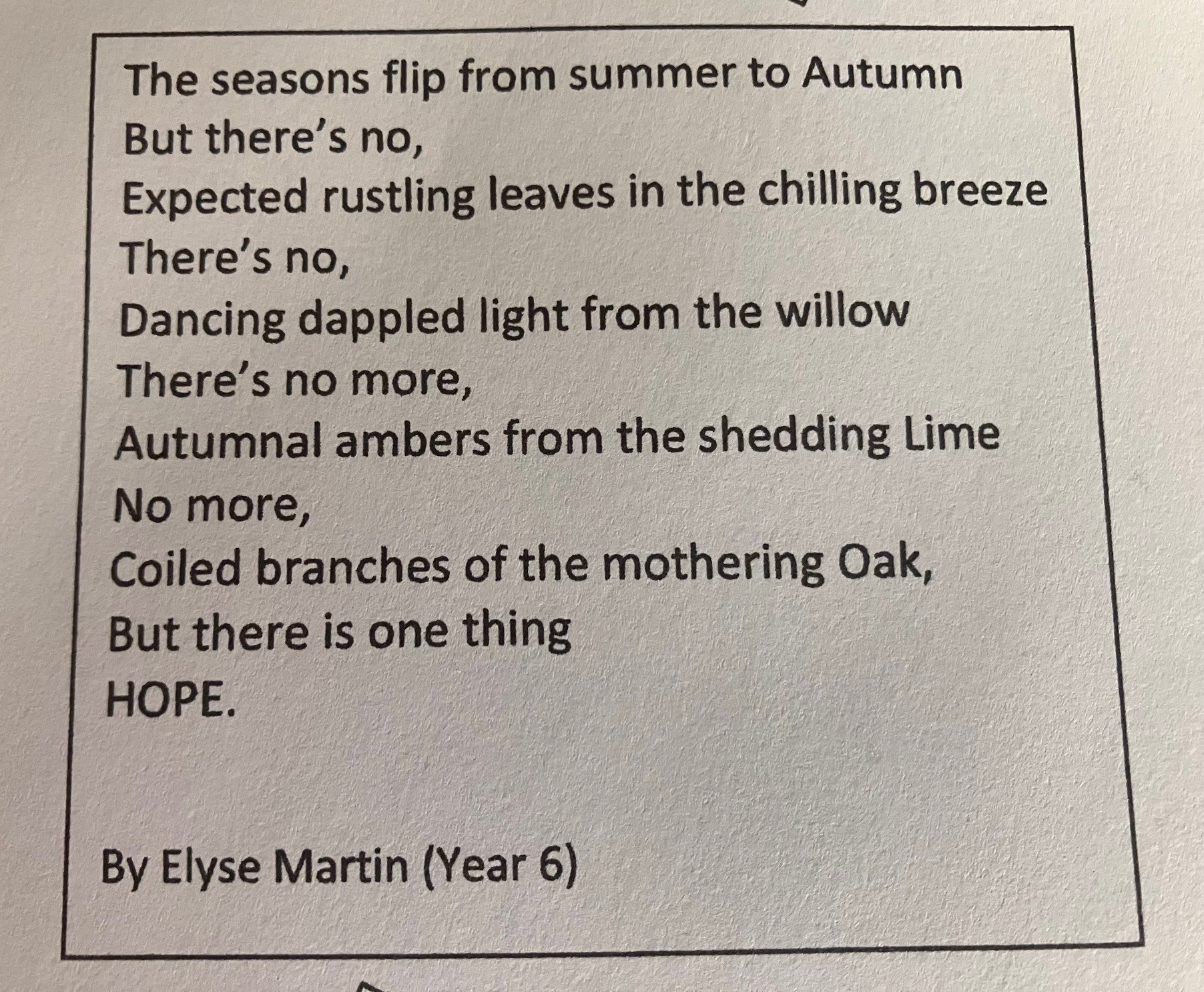 Hello everyone.
Thank you to the parents and grandparents who joined us for our Funky Friday Assembly. A special mention to Logan (Year 6) and Stan (Year 6) who joined the band and played bass and guitar on 'Ob-La-Di, Ob-La-Da'.
No Gold Award winners yet, but Finley in Year 6 was presented with an Oscar. Finley is working his socks off! He quietly gets on and is producing some amazing work. He is gentle, kind and unassuming. He's also a great artist.
Golden Ticketers this week were: Arun and Benjamin (Seashells), Bella and Nimitan (Starfish), Daniel and Stanley (Dolphins), Theo and Millie (Lighthouse), Danny and Beatrix (Coral) and Bonnie and Scirocco (Ocean).
Attendance Matters
The class with the best attendance this week is Starfish Class with a fabulous attendance figure of 99.3%. They chose to have Lily monkey for the week.
National Poetry Day
On Thursday it was National Poetry Day. Here are some examples of the poetry that has been produced this week including pieces of Art work from Emily, Cassidy, Reuben and Rosie inspired by the poem "In Flanders Fields".
Year 6 and their Minnow
This week saw the Minnows join the rest of the school for our Monday and Wednesday assemblies. They sat with their Year 6 buddy and thoroughly enjoyed being part of the whole school. They will soon be in Funky Friday.
Mr Strugnall's Millionaire's Shortbread Recipe
Something for you to try as a family this weekend:
Millionaire's Shortbread

Let's Harvest
Once again, we will be supporting the Shoreham Foodbank and ask if you are able to donate items to this excellent cause. Our Harvest Assembly will take place on Wednesday 18th October and all items brought in on that day will be presented on the Harvest table and donated to Shoreham Foodbank the following day.
Year 6 Art
Year 6 pupils have produced some lovely art this week.
Staffing Update
Welcome to Terri Hall and Emily Mann who both join our support staff team. Emily will be working in Early Years and Terri will supporting pupils across the school.
Unfortunately, we are saying goodbye to Claire Ayres who is moving on to exciting new things. Claire has been with us since 2015. I'm sure you will join me in wishing her all the best.
An advert has been up on the West Sussex job vacancies list for a couple of weeks. for anyone interested. The closing date is Monday!
More Fundraising
Wilbur in Year 4 is continuing the passion of raising money for the Moroccan Earthquake appeal and raised £50.32 from a cake sale. His siblings Hetty and Hubert helped him. Well done you three!
More Clubs
Mrs Shukla has informed me that new clubs are heading this way. A football club, dance club, cheerleading and wheely fun club will all be starting either after half term or in the new year. Watch this space. If you know of any outside providers who would like to run a club in our little school – please ask them to contact the school office.
Speaking of Wheely Good Fun – check out the Worthing Herald article: https://www.sussexexpress.co.uk/news/people/this-west-sussex-village-is-home-to-ultimate-toy-car-playground-heres-how-to-get-your-children-immersed-in-a-wonderland-of-car-fun-4356759
Have a lovely weekend everyone.
Mr Vallier