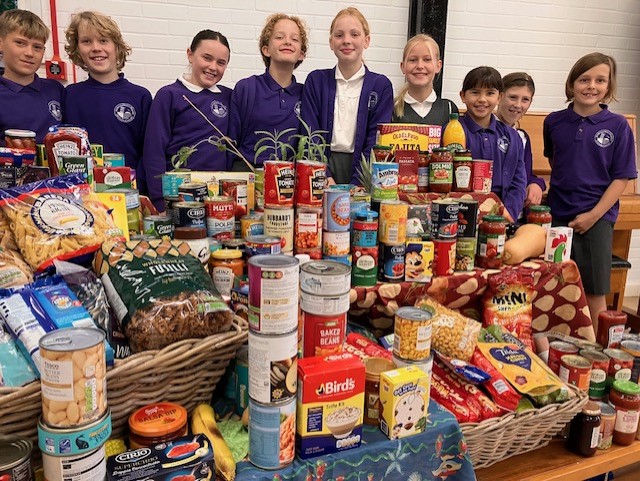 Hello everyone.
As we come to the end of Autumn Term 1, it has to be said that it has been a full on seven weeks. Many visitors, many steps forward, many successes and many achievements.
Thank you to the parents and grandparents who joined us for our Funky Friday Assembly. It was the first Funky Friday that Minnows had attended. Weren't they fabulous?!
No Gold Award winners yet, but Ben in Year 6 was presented with an Oscar for attempting the many challenging activities at Blacklands and facing his fear of heights. His friends (Jack, Sammy and Harri) nominated Ben and sent me a letter saying that Ben tried his very best, overcame his fears and then supported everyone else. We are very proud of you Ben. Well done.
Golden Ticketers this week were: Dominion and Ronnie (Minnows), Rocco and Ava (Seashells), Lincoln and Arthur (Starfish), Hettie and Heidi (Dolphins), Harvey and Maggie (Lighthouse), Yvie and Lily (Coral) and Darcey, Bronte and Logan (Ocean)
Attendance Matters
The class with the best attendance this week was Lighthouse Class with an attendance figure of 96.9%.
Year 4 Wolf Artwork
Year 5/6 Basketball Success
Congratulations to our wonderful Year 5/6 Basketball team who came 3rd in last week's tournament at Shoreham Academy. Thank you to Mrs Shukla and Mrs Bennett who drove the minibus and ensured the team had a fabulous time.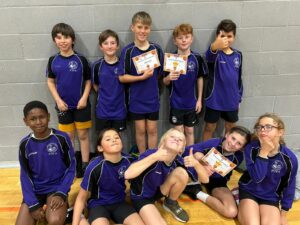 E-Safety Workshops
KS2 were visited by Alan O'Donohoe from EXA and had a thrilling Thursday where they enjoyed an assembly about the internet and the World Wide Web, all whilst singing to the tune of YMCA! Years 4, 5 and 6 then took part in workshops on computational thinking, logical thinking and pattern recognition to detect cyber criminals using Micro:bits. Thank you to Miss D'Ademo for organising the workshops.
Year 3 Mayan Hot Chocolate and Masks
Dolphins made and tasted some Mayan hot chocolate, including the key ingredient, cayenne pepper! I think their faces say it all!
They also made some Mayan masks:
Harvest
Thank you so much for the many food items donated. Thank you also to the wonderful Year 6 pupils who set up the Harvest table and ensured every child's item was safely displayed. Shoreham Foodbank collected the items yesterday and couldn't believe the level of generosity.
PTFA
The wonderful people at Oakley Property have offered to pay £250 towards the cost of running this year's Christmas fair in return for 15 properties displaying an advertising board from early November until the fair. If you are happy to help us earn this sponsorship, please send your name and address to [email protected] or contact Gemma, Louisa or Sophie.
Construction Work
As always, we have arranged for some exciting school building works to take place over the break. I'm not 100% certain that the builders are qualified yet!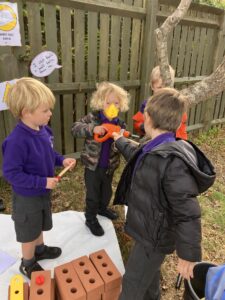 Tanya
Finally, a huge thank you to Tanya Pascoe who has been volunteering in Minnows since the start of the year. Although Tanya will still be coming in on a Thursday, she currently has her eye on a teaching job. Thank you Tanya and good luck.
Have a lovely half term break everyone.
Mr Vallier